Leggings Tutorial
Here is my official tutorial on the hottest thing to wear under a skirt this season. naturally when embarking on a new fashion phase a girl must take certain precautions.
a brief history of the legging:
Despite their recent boom in popularity, calf-length leggings have been worn for at least the past 5 years by fashion conscious indie girls, people who think tight tapered jeans are not tight enough, and participants in an 80's themed dance party. Because of their popularity of late, the current legging has taken on many different incarnations where previously it was limited to whatever color running tights they had in stock at target that week.
some new kinds of leggings are:
THE RUCHED LEGGING!
i personally think these are great, though they may not look too good with a skirt because it would be too much embellishment. they are perfect for someone who thinks their calves are not shapely enough (the ruching adds bulk)
and are nice under a long tee shirt because it keeps the outfit simple without looking too much like a modern dancer.
(photos courtesy of the urban outfitters website)
STIRRUP LEGGINGS!
remember these from 2nd grade? I sure do.
now, these are a little bit trickier. i think in grade school i layered slouch socks over them. I saw a girl out the other day wearing these in hot pink with a pair of black flats and it didnt look great. they could be interesting under a pair of really great greek-style sandals. black tights with metallic sandals would really pop.
BIKE SHORTS!
true. these have been around forever and yes i did wear these in grade school too. I am not saying that makes me fashion-forward or anything. I personally would never wear these as bottoms without something else over them to cover my bum.
they are really perfect for a girl who wants to bike to the party but doesnt want to give up wearing that hot vintage minidress.
or for people who are worried that they will flash too much crotch in general, bike or not. they would be good under a tunic or under any kind of dress. I am avoid having the hem of the bike shorts peeking out from under the hem of my skirt, but that is a matter of personal taste. Having the bike short sticking out too much might make legs look chunkier than they actually are. And bike shorts tend to "sausage" the thighs. Any one who wants to try this as an alternative to having to remember to cross her legs and is experiencing a fat day could just wear a control top version of the bike shorts. (i have a pair)
STRIPED!
I am still on the fence about these ones. I think they are a little bit too garish and would never wear them, but that doesnt mean you cant look cute in them! These would be good with a mini, because conventional wisdom says that horizontal striped widen, and mini's elongate the look of the leg. In theory wearing both together would cancel each other out and THE UNIVERSE WILL BLOW UP!! No just joking. If you are a heels kind of girl then jack them up! Dont wear these if you have any "thigh issues" because they will just make you paranoid all night unless you are hellbent on dressing like a cartoon witch.
Some good examples of legging wear on celebrities:
joy bryant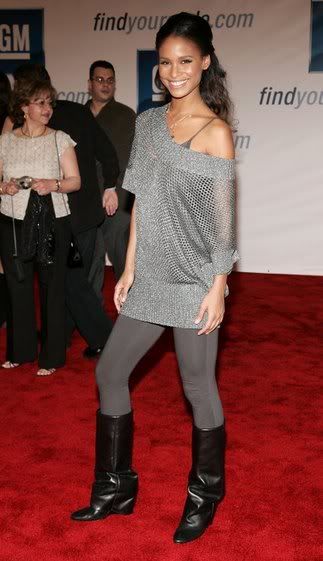 i found this pic on fugly but i think it is a great example of what i am talking about when i mention putting a tunic on over leggings. They provide more coverage than tights so no worries about the paparazzi getting a panty shot. also if it is cold out and tights just arent cutting it you can wear leggings under your skirt/dress and tuck your boots into them. very easy to do.
SCARLETT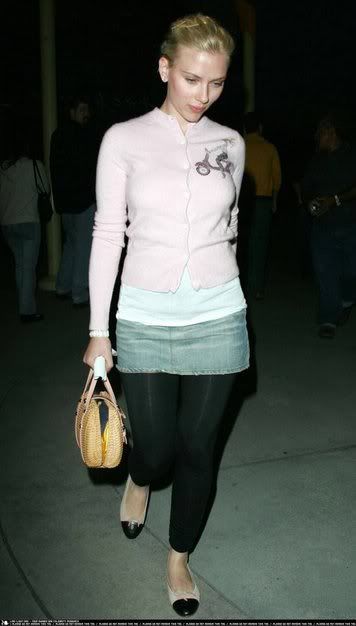 This is textbook perfect.might i also add that it is important that the skirt worn with the leggings is never past the knee, it messes with the proportions of the outfit and looks odd. scarlett i heart you!
ON TO THE BAD
Piper Perabo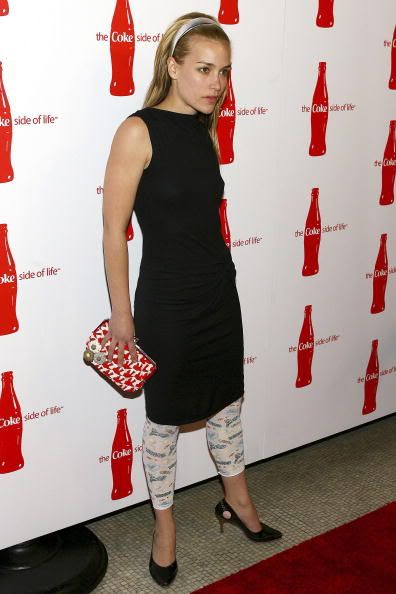 maybe her pr team didnt tell her there was going to be a red carpet. either way. that dress is adorable audrey-hepburn classic, the leggings are cute too but they are waaay to casual and just dont go with the dress or the shoes. keep it simple stupid!
Mischa
i am torn here. i think these are super cute pjs, not great for outerwear as a set. maybe she wasnt expecting to be photographed and yes paparazzi these days are brutal but how could she not know that she was going to get papped? it's freakin mischa barton. the point i wanted to make here was that the only time one should ever be seen wearing leggings without some bum coverage is they are seriously ill, a child, or on their way home from the gym.